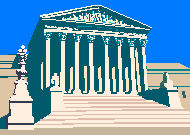 Upcoming Cases: 2002 Term
Preemption of State and Local Powers
Silence is Golden, but does it Preempt State Tort Actions?
Sprietsma v. Mercury Marine
The Supreme Court recently granted cert in a case that may prove to be a seminal federalism decision. In Sprietsma, the Justices will decide if The Federal Boat and Safety Act preempts state common law actions--more specifically, whether the U.S. Coast Guard's decision under the BSA not to require propeller guards on recreational boats preempts tort actions against boat owners and manufactures.
This case raises an interesting federalism question: does a federal decision not to regulate have the same preemptive effect as a decision to regulate? The Illinois Supreme Court answered "yes"-- using the High Court's recent decisions in Geier and Locke to justify their decision. The Solicitor General, however, has sided with the plaintiff, sustaining the Clinton Administration's policy of defending state prerogatives and, in effect, state trial lawyers and state tort actions. Seventeen states have chimed in to agree, arguing, as amici, that state tort law is an aspect of state police powers, and the feds should not "insidiously intrude" upon their "historical role in policing health and safety." In sum, when it comes to preemption, "ambiguity is not tolerated." We shall see.

Can a State use Access to Medicaid Participants as Leverage against Drug Manufacturers?
Pharmaceutical Research v. Concannon
No. 01-88

At issue: a First Circuit opinion upholding Maine's price curb program for prescription drugs. Under the "Rx Program," participants enroll, get a membership card, and receive discounts on their prescriptions. The discount is offered by pharmacies and reimbursed by the state from a "rebate fund" collected from participating drug manufacturers. Manufacturers who choose not to contribute are punished by the state: they are "outed" to doctors and the public and, more damningly, face obstacles in distributing their drugs to Medicaid beneficiaries.
The First Circuit ruled, in May, that Maine's use of Medicaid-as-leverage is not preempted by federal Medicaid law. As Judge Bownes explains, state police powers are not superceded unless that is Congress' clear and manifest intent, and "we perceive no conflict between the Maine Act and Medicaid's structure and purpose." As for he dormant Commerce Clause, the court found the program non-discriminatory and without impermissible extraterritorial reach. Since the program is evenhanded and only has incidental effects on interstate commerce, it is subject to a low level of Commerce Clause scrutiny.
10th Amendment/Spending Clause
May Congress Prohibit State and Local Courts from Admitting Certain Traffic Accident-Related Materials into Evidence?

Pierce County v. Guillen
No. 01-0229

Findlaw's coverage here

Current Term

2000-2001 Term